App of the Month: Endless Alphabet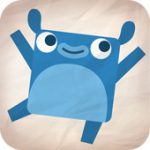 Endless Alphabet gets the App of the Month award from our household for October!  This is a great app for preschoolers and early elementary students.  My children love the silly noises, characters, and videos.  This isn't just a silly app though!  My children are learning vocabulary with spelling, sounds that the letters make, and the names and recognition of the capital letters.
When a child picks a letter from the scrolling screen, they are introduced to a word which starts with that letter, and then the letters for the word are disbursed around the screen.  The child must move each letter (as the letter makes its sound) back to the correct location for spelling the word.  When all the letters are in place, there is a cheer, and the child is given a silly video to illustrate the meaning of the word.
As a mom, I appreciate that the sounds and voiceovers are pleasing to the ear.  There is not an annoying buzzer or jingle.  I actually keep this app on my phone for emergency situations when a distraction is needed.
We have used this app for entertainment while waiting at the doctor's office, and even though we have used it for over a year now, my children still choose it when they get the iPad for playtime.  Entertainment and learning happening simultaneously!  Thank you, Originator, for a great app!
(We use AppShopper.com to catch great deals on apps!)